NFW solidifies partnership with vegan shoe manufacturer Ahimsa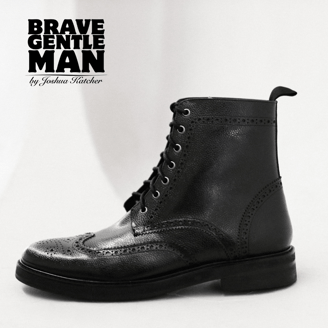 PEORIA, IL., JUNE 13, 2023
NFW and Ahimsa recently announced that the companies have confirmed a strategic partnership that will make it easier to sample and develop footwear made with MIRUM®. Ahimsa, a PETA-approved footwear factory in Brazil, believes in the power of love and only uses vegan alternative materials. The team at Ahimsa has a large catalog of styles that can be made with MIRUM® and offers wraparound services to create custom shoes suited to any designers' specifications.
Ahimsa was born with the purpose of creating quality vegan products for those who are unwilling to compromise on their ethical values. The company distinguishes itself by providing transparency and eco consciousness to protect the environment. MIRUM® is a categorically unique material class, perfect for luxury accessories, fashion, footwear, automotive, and home goods. The partnership makes it easier for brands to procure MIRUM® on a smaller scale for their footwear needs.
Pictured right: Brave GentleMan boot Made With MIRUM®, produced by Ahimsa. See more from Brave GentleMan.
For additional information on MIRUM®, visit madewithmirum.com. If interested, please click here to start the conversation with Ahimsa.
About NFW
NFW is a circularity platform for plastic-free performance materials. NFW follows three Ground Rules in everything they develop: start well, stay clean, end well. The multi-material platform serves a wide range of industries—from fashion and footwear to automotive and upholstery. NFW technology embeds into existing supply chains, enabling the world's most iconic brands to design and scale products with high-performance, naturally circular materials. NFW makes global brands more sustainable, empowering them to create without plastics. Alongside the boldest brands and visionary designers, NFW is pioneering a post-linear, post-oil economy.
About MIRUM®
MIRUM® is a categorically unique, biobased material that is perfect for fashion, footwear, accessories, upholstery, automotive, and more. MIRUM's miraculous customizability means it can look like leather or carbon fiber — you decide. MIRUM is a high-performance solution for designers and brands looking to shrink their footprint and expand their creative palettes. At the end of its life, MIRUM® can be recycled into new MIRUM® or ground up and returned to the earth: At last, a climate-friendly, plastic-free option.
About Ahimsa
Handmade in Brazil, Ahimsa is PETA approved and dedicated to living a cruelty – free lifestyle; developing premium vegan products made from alternative materials that respect all life. Establishing the first 100% vegan shoe factory in 2014, Ahimsa vegan leather is made from Polyurethane (PU), proving you can still create quality footwear without the needless exploitation of animals.