This listing of intellectual property is accurate at the time of publishing and refreshed on a regular basis but is provided for information and legal notice purposes only. Consumers of this information remain responsible for their own due diligence as to whether they are or maybe infringing upon our intellectual property rights which are ever evolving as we continue to invent and innovate our technology platforms and materials. Please be advised that we actively and aggressively enforce our intellectual property rights, which may extend beyond the intellectual property rights listed herein, to the fullest extent of the law.
PATENTS
Natural Fiber Welding, Inc. is building a new era of uncompromising textiles. Peerless performance from nature's abundance.
As permitted under the United States Patent Laws*, this site provides patent information for many, but not all, of our products. Other products that are not listed here may be protected by one or more patents. The patents listed below are only applicable in the U.S.; there may be patents in other countries.
MIRUM®
Application No./Patent No.
10,882,951
10,882,950
10,400,061
17/129,183
17/155,000
17/129,239
17/129,267
17/141,900
CLARUS®
Application No./Patent No.
11,085,133
10,982,381
10,011,931
15/665,265
17/399,012
16/010,092
16/623,300
16/189,851
16/763,204
17/234,756
16/086,273
TRADEMARKS
All product service names, whether or not appearing in large print or with the trademark symbol, are our trademarks or trademarks of our licensees or joint venture partners, unless otherwise noted.
All other trademarks, service marks, and logos (hereinafter "Marks") used in this site are the Marks of their respective owners. The use or misuse of these Marks or any other materials, except as permitted herein, is expressly prohibited and may be in violation of copyright law, trademark law, the law of slander and libel, the law of privacy and publicity, and communications regulations and statutes.
The following is a partial list of our registered trademarks: NFW, Natural Fiber Welding, Nature Reformatted, MIRUM, the MIRUM Leaf Logo, Unlocking Nature's Potential, Clarus, and Plants, Not Plastic, Plants. Not Plastic, the CLARUS Bloom Logo, and MADE WITH MIRUM.
The following is a partial list of other trademarks in which we have exclusive rights: MADE WITH CLARUS, CLARUS THE NEW SHAPE OF COTTON, as well as Performance without Plastic.
Below is a current listing of all trademarks, including description of goods and services, in which we have, or have applied for, trademark rights and registration of those trademark rights.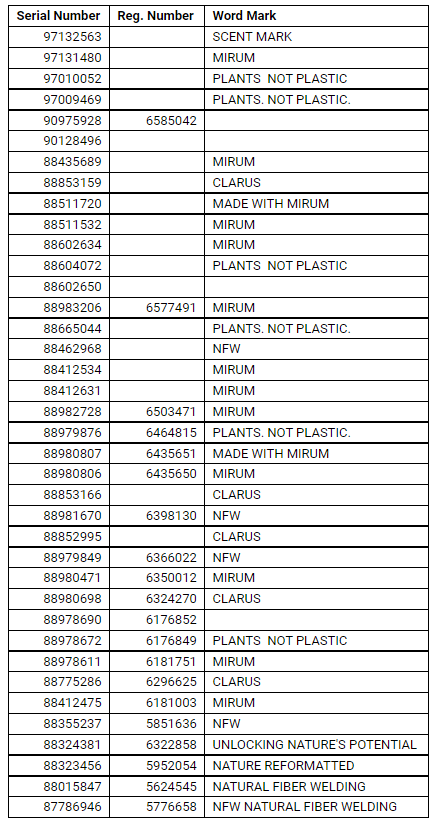 COPYRIGHTS
All copyrightable expressions embodied by or found on this website and or contained in any sales and marketing materials distributed by us, are the exclusive copyrights of Natural Fiber Welding, Inc. (aka NFW), and all expressions within this website and or contained in any sales and marketing materials distributed by NFW are subject to copyright protection under the laws of the United States (see 17 U.S.C. §§101 et seq.) and internationally.
*United States Patent Laws, 35 U.S.C. § 287(a), states "Patentees, and persons making, offering for sale, or selling within the United States any patented article for or under them, or importing any patented article into the United States, may give notice to the public that the same is patented, either by fixing thereon the word "patent" or the abbreviation "pat.", together with the number of the patent, or by fixing thereon the word "patent" or the abbreviation "pat." together with an address of a posting on the Internet, accessible to the public without charge for accessing the address, that associates the patented article with the number of the patent, or when, from the character of the article, this cannot be done, by fixing to it, or to the package wherein one or more of them is contained, a label containing a like notice. In the event of failure so to mark, no damages shall be recovered by the patentee in any action for infringement, except on proof that the infringer was notified of the infringement and continued to infringe thereafter, in which event damages may be recovered only for infringement occurring after such notice. Filing of an action for infringement shall constitute such notice."